The Titusville Area Hospital (TAH) physical therapy department is involved with evaluating and treating disorders of the musculoskeletal and neuromuscular systems. The ultimate goal of physical therapy is to restore maximum functional independence to each patient. The treatments promote the ability to move, reduce pain, restore function and prevent disability. The basic goals of physical therapy are to:
Relieve pain and discomfort

Regain movement and promote feeling

Restore function to the injured body part

Rebuild confidence and motivate patients to work toward recovery

Help people adapt to any permanent physical changes
For optimal results, we use the latest manual treatments and positive motivational techniques to get you back doing the things you love after an injury or illness. This combination of hands-on treatment and compassionate care eases your discomfort and speeds your recovery.
Your treatment is completely customized to your specific needs and tailored to achieve long-lasting results.
We offer comprehensive therapy and rehabilitation in the following areas:
Balance problems

Post-surgery rehab for all joints

Sprains and strains of all joints

Neck and back pain

Herniated disc

Joint pain

Chronic pain

Pregnancy back pain

Poor balance

Injuries from automobile accidents

Arthritis

Gait training

Headaches
The department also offers:
Treatment for dizziness and balance problems

Treatment of neuromuscular disorders

Treatment for pain syndromes

Treatment of osteoporosis

Aquatic therapy

Physical Rehabilitation
Treatment from orthopedic to neurologic conditions including post-surgical are also offered:
Hand injuries, tendon repairs, carpal tunnel and tendonitis

Back injuries, sprains / strains, post-surgical and herniated / bulge disc

Tendonitis, bursitis and other inflammatory processes

Muscular injuries, sprains and strains

Fractures

Nerve injuries
TAH Physical Therapy is the only facility in Titusville that offers aquatic therapy. The therapeutic pool is kept between 90-94 degrees for not only your comfort, but also because this range reaches the ideal temperature for therapeutic benefits by drawing the blood into target tissues. This increased blood flow delivers needed oxygen and nutrients and removes cell waste. The warmth also relaxes tense muscles, decreases muscle spasm, relieves pain, and can increase range of motion. Our pool also provides an underwater treadmill for initial ambulatory exercises, therapeutic jets for pain relief and muscle relaxation, as well as an adjustable current jet which allows for higher level exercises.
A transition program from in-patient therapy to out-patient therapy is another unique feature that is offered. If you are hospitalized at Titusville Area Hospital, your established therapy regimen will be continued in the out-patient setting. The same highly trained therapist may even be treating you as an out-patient.
After your therapy is complete, you can join the F.I.T. (Functional Independent Training) program at TAH Physical Therapy. This program allows you to continue regaining strength and endurance on equipment that you are familiar with for a monthly fee of $30. The trained staff will also be available to assist you if you have any questions.
TAH physical therapy also offers direct access. This allows a physical therapist to evaluate and treat a patient without a referral from a doctor. It is covered by medical insurance the same as physical therapy with a referral from a doctor. It simply allows you to come in for treatment sooner, if you need to. The information from your physical therapy evaluation is sent to your primary care physician so he/she can be kept informed of your treatment and be part of the rehab team.
Hours & Contact Information
Our outpatient rehab program accepts most insurance types. Typically you will be seen the next business day when you schedule your appointment. In certain cases, pre-authorization may be required before the therapy can begin. Office hours are 7 am – 6 pm Monday, Wednesday and Thursday and 7 am – 2:30 pm Tuesday and Friday. Call 814-827-8766 to schedule an appointment.
Medical Minute with Stephen Kriner, MPT, ATC – Sports Injuries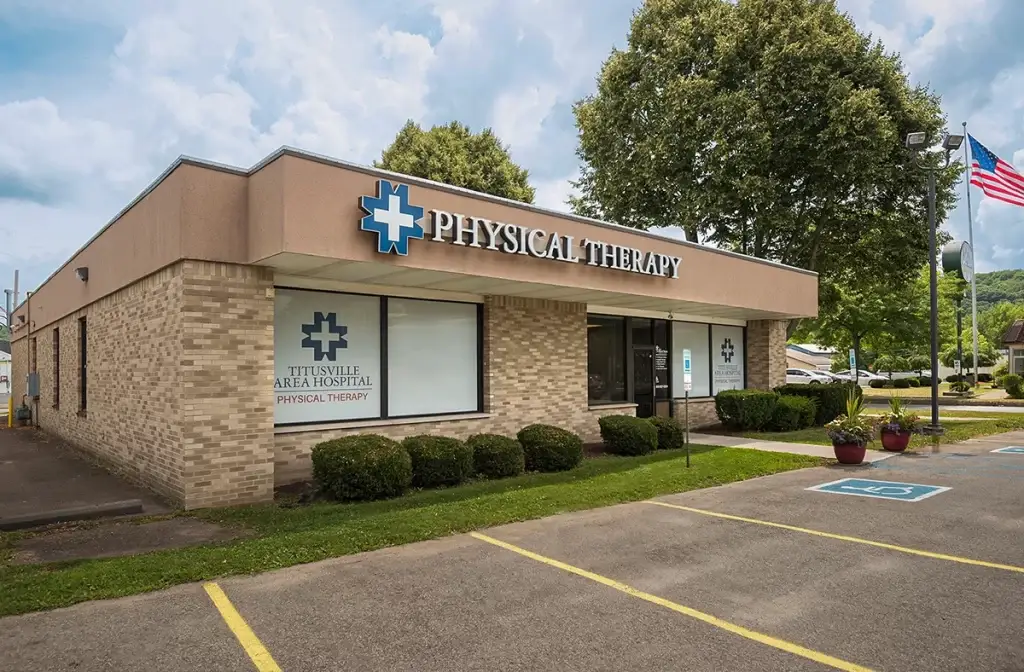 228 East Central Avenue, Titusville, PA16354
Physical Therapy Providers