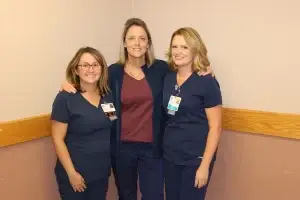 No resources should be spared when fighting cancer. At Titusville Area Hospital, we realize that we have a responsibility to provide the people of our community with accessible and effective cancer treatments. Great strides have been made in this area of medicine, and the outlook is not near as grim as it was 20, or even 10 years ago. The staff working in this department undergo extensive training to provide patients with optimal treatment and maintain a better quality of life. Infusion, chemotherapy, bone marrow biopsies, and more are offered at our clinic.
Partnership with Yolanda G. Barco Oncology Institute
Titusville Area Hospital is affiliated with the Yolanda G. Barco Oncology Institute in Meadville. Through this partnership, we have access to some of the most advanced technology and cancer experts in the nation. Patients have access to an experienced interdisciplinary team consisting of surgeons, medical and radiation oncologists, specifically trained nurses, social workers, and knowledgeable support staff.
Hours & Contact Information
The Oncology department is open Tuesdays and Thursdays 8 am – 4 pm. To contact us, please call 814-827-1851.