The Tree of Life is a lasting tribute to individuals by families, friends, and organizations. The bronze sculpture is on display in the Titusville Area Hospital lobby. A LEAF will be inscribed and mounted according to the donor's wishes and availability. The engraved message is limited to 65 spaces. A message will be placed on a brass LEAF (3″ x 1-1/2″) for a donation of $250.00.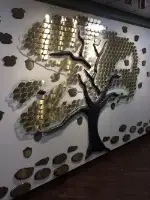 The Tree of Life offers families, friends, and organizations a way to recognize individuals or groups in the following ways:
Honor
Thank
Memorialize
Acknowledge
The Tree of Life is one of a number of ways to benefit the Hospital's programs and services. Other ways to give include:
Annual Giving
Bequests
Endowment Funds
Memorials
Planned Giving
When giving, you can give a general or unrestricted donation. Or you can specify a certain service at TAH that you prefer your charitable donation to be used towards. 
Donate via mail by sending your donation to
406 West Oak Street
Titusville, PA 16354.
*Please consult with a certified professional to determine the tax implications of a donation.